Written by Linda Brown – from Spring 2021 Newsletter.
2020… What a year!  
Little did my husband, Bob, and I realize what we we were getting ourselves into when we agreed to be year-round camp hosts.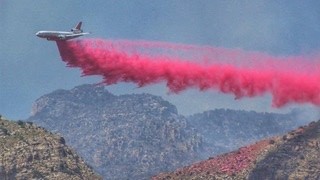 By the start of summer the park staff had scaled things back due to the pandemic. On Friday, June 5th, lightning struck Pusch Peak and started a small fire. That changed everything.  By Monday, we had everyone in the campgrounds evacuated, with future reservations cancelled.
Firefighters started arriving and by the end of the following week we had over 1000 firefighters living in the park.  It was like a little city in here.  They slept everywhere – In the campgrounds, equestrian area, group areas…just everywhere!  They brought in their own equipment including WiFi, electric, air conditioning for the big tents, bathrooms & showers, wash stations every 4 sites, a restaurant to feed all the firefighters, even their own trash containers, recycling centers and a crew to clean the park daily.  Even street lamps were set up so no one got lost or run over.  We were amazed at how well organized everything was.
By July 10 the crew had vacated the park to fight the fire on the east side of the Catalinas. Still a small contingent of firefighters stayed for two weeks to cut and remove burnt trees and bring the campsites back to normal. Now may the summer rains return to bring the vegetation back to normal.